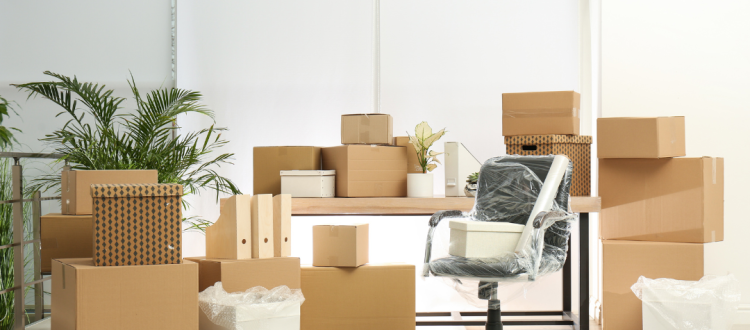 The Business Relocation Guide 
Key Considerations for a Smooth Transition
Relocating your business can be a complex and daunting process, with numerous factors to consider before, during, and after the move. At Office Phones Plus, we understand the challenges that come with business relocation and the importance of planning and preparation. In this blog post, we'll guide you through the essential considerations to ensure a smooth and successful transition for your business.
Before the Move: Planning and Preparation
Thorough planning and preparation are critical in the early stages of a business relocation. Here are some crucial factors to consider.
Assess the Reasons for Relocation
Before deciding to move, evaluate the reasons behind your decision. Are you outgrowing your current space, seeking a more strategic location, or looking for cost savings? Make sure the move aligns with your business goals and objectives.
Choose the Right Location
Carefully research potential locations, considering factors such as accessibility, local infrastructure, workforce availability, and cost of living. Consult with local economic development agencies and real estate professionals to help you make an informed decision.
Confirm Internet Services
When signing a lease for a new space, it's essential to consider the availability and cost of internet services. Many people make the mistake of assuming they can easily find affordable internet options and are caught off guard when discovering limited choices or extremely higher costs than anticipated. Particularly in warehouse parks and shopping centers, where low population density affects ISP investment strategies, only enterprise-grade internet may be accessible. Unfortunately, this type of connection often comes at a higher cost than expected. Our experience has shown that customers often assume they can secure the necessary internet speeds within a budget of $200 – $300. However, numerous cases have proved that achieving the required speeds can cost closer to $1,000 per month. By opting for enterprise internet, customers essentially fund the installation by committing to a fixed-term agreement, typically lasting three years. The cost of construction is factored into this model, ensuring a reliable and high-speed internet connection.
Instead of embarking on a tedious search for internet providers, you can rely on Office Phones Plus to handle the task. By utilizing our services, you can save time, money, avoid any unpleasant surprises, and ensure a smooth transition into your new location.
Develop a Relocation Budget
Create a detailed budget that accounts for all expenses related to the move, such as moving costs, lease or purchase fees, renovations, and equipment upgrades. Be sure to factor in any potential downtime and revenue loss during the transition.
Assemble a Relocation Team
Designate a team of employees to oversee the relocation process, ensuring that all tasks are assigned and managed efficiently. Consider hiring a professional relocation consultant or project manager for additional support.
Communicate with Stakeholders
Keep your employees, customers, suppliers, and other stakeholders informed about your relocation plans. Provide regular updates and address any concerns or questions to maintain trust and support throughout the process.
During the Move: Execution and Coordination
Effective execution and coordination are essential during the moving process to minimize disruptions and ensure a smooth transition. Here are some key aspects to consider.
Create a Moving Timeline
Develop a detailed timeline outlining all tasks and deadlines, from packing and equipment disassembly to transportation and reassembly at the new location.
Hire Professional Movers
Engage a reputable moving company with experience in commercial relocations. Obtain multiple quotes and check references to ensure you're working with a trustworthy and reliable partner.
Protect Your Assets
Ensure that all valuable and sensitive equipment, such as office phones, computers, and important documents, are properly packed and protected during transportation. Consider purchasing insurance to cover potential damages or losses.
Communicate With Your IT Team
Working closely with your IT team will allow for a smooth transition and less downtime. Make sure your team sees the space before the move so they are better able to position your team for an easy transition.
Coordinate with Utility Providers
Schedule the disconnection of utilities at your old location and the connection of utilities at the new location, ensuring minimal downtime and disruption to your operations.
Manage Downtime
Plan your move during a period of low business activity, if possible, to minimize the impact on your customers and operations. Communicate any anticipated downtime to your customers and stakeholders in advance.
After the Move: Settling In and Ongoing Support
Once the move is complete, there are several ongoing considerations to ensure a successful transition.
Update Your Business Information
Notify all relevant parties of your new address and contact details, including customers, suppliers, banks, and government agencies. Update your business information on your website, social media, and marketing materials.
Set Up and Test Your Systems
Ensure that all essential systems, such as office phones, internet, and security, are set up and functioning properly at your new location. Test these systems thoroughly to avoid any unexpected issues.
Provide Employee Support
Help your employees adjust to the new location by providing resources and support, such as transportation options, local amenities, and team-building activities.
Evaluate and Optimize
Continuously assess your new space and operations to identify any areas for improvement or optimization. Gather feedback from your employees and customers to ensure their needs are being met in the new location.
By staying attentive and responsive to the evolving needs of your business, you can successfully navigate the relocation process and set the stage for continued growth and success.
Remember, Office Phones Plus is here to support you every step of the way, providing communication solutions that help your business thrive in its new home. Contact us today at 410-834-4900.